"Cary Grant : A Brilliant Disguise," by Scott Eyman. ( Courtesy Simon & Schuster )
An exclusive review by JAYJAY EPEGA
Cary Grant pictured with Ingrid Bergman in Notorious 1946
Bestselling writer Scott Eyman has brought us a new insightful and truly enjoyable look into the life and times of the legendary much loved actor and everlasting Hollywood Star with his latest release 'CARY GRANT : A BRILLIANT DISGUISE '.
Cary Grant Pictured with third wife Betsy Drake by Sanford H. Roth
gelatin silver print, early 1950s
"Cary Grant was a complete self-invention. After he left the business, by some weird metamorphosis, Archie had become almost completely Cary. He needed to be that person so badly, he became him." Eyman had access to a diary, a young Cary Grant kept for some months when he was 14, " You can already see how self-contained he is. There's nothing about his family, his friends. World War I is raging, and there's nothing about the outside world. It's all about Archie and what Archie's going to do that day and the next. He's so self-possessed and self-determined."
Scott Eyman was interested in looking at the actor's life right from when he was a young "Archie Leach" trying to find his way in the world in a family situation which was not very stable and did not feature much love.
Cary Grant – George Clooney (With images) | Celebrities, George clooney, Cary grant">
Cary Grant, George Clooney
Adventure was always on the cards, and it is was certain that he would seek to escape the confines of his birthplace Bristol. The charm, the charisma, the masculinity, the cool. So many stars of today from George Clooney to David Gandy have been influenced by his enduring style.
David Gandy in a tribute to Cary Grant's movie
In another nod to his powerful cultural impact, it is interesting to note that Cary Grant was offered the part of James Bond in Dr. No before the role went to Sean Connery. He turned it down as he didn't think that the role was right for him, as he was 58 by then. Ian Fleming, who created the character, said that the basis for the classic spy was none other than Grant himself. This was based on his characters in the Hitchcock movies Notorious, To Catch A Thief, and North By Northwest.
Personal traits were that he was very particular, shrewd with his money and careful to a fault. This all likely stemmed from the uncertainty he felt all through his childhood, so making sure he had control at all times in all aspects of his adult life should not have come as any surprise.
His love life was kaleidoscope of intrigue. Grant was married five times, three of them elopements with actresses Virginia Cherrill (1934–1935), Betsy Drake (1949–1962), and Dyan Cannon (1965–1968). He was also notably married in 1942 to Barbara Hutton, who was counted among the world's richest women at the time – they were known in society circles as "Cash and Cary". His last marriage and perhaps his most peaceful was with Barbara Harris from 1981 to his death in 1986. He was to comment on matrimony, "I'm rather a fool for punishment. I keep going back for more, don't ask me why."
Cary Grant pictured with Randolph Scott circa 1935
There have been constant rumors about his sexuality, and perhaps he was bisexual, Eyman explores this in the book, looking at the times he spent with Orry-Kelly and Randolph Scott.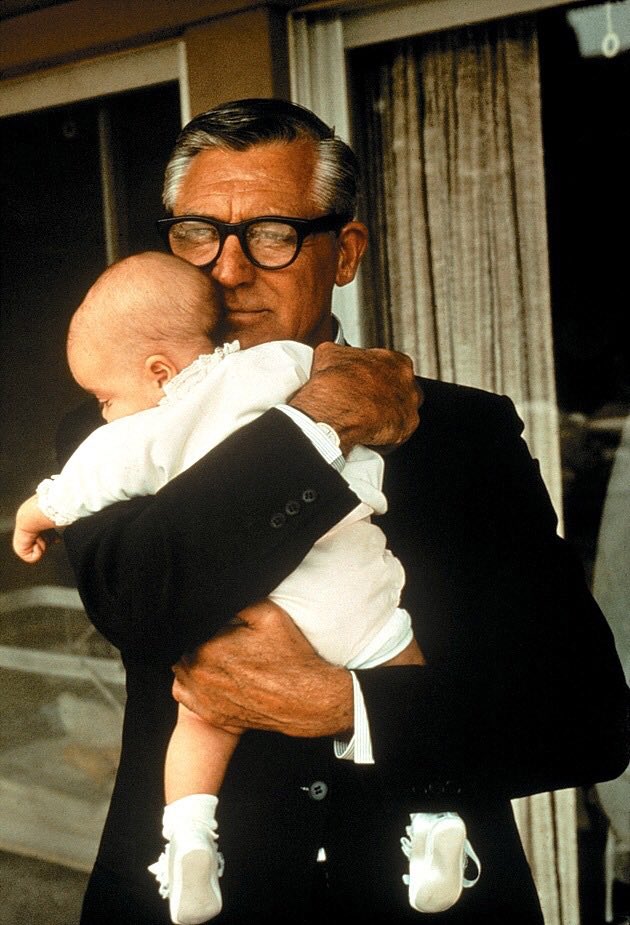 Cary Grant pictured in 1966 with his only child Jennifer
He certainly had an interesting life journey and even used a popular psychedelic compound – LSD, which he discovered when it was still legal. He suffered from depression and underwent many experimental sessions as part of his therapy.
Suffice to say among the happiest moments of his life was the birth of his only child Jennifer with fourth wife Dyan Cannon. His effect was monumental in culture, and he brought joy to many with his work and rose beyond wonder to become one of Hollywood's greatest stars, working alongside the industry greats of Hollywood's Golden age. Although he never won an Oscar for any of his performances, he was awarded an honorary one in 1970 to commemorate his lifetime of work.
Scott Eyman take us on a superlative ride into Cary Grant's incredible life journey – making us realize that while garnering huge success on-screen, many did not know what was going on behind the camera.
In the author's own words, "There are certain movie stars that do transcend their own period, but Cary Grant's one of the few movie stars of that period who still has some meaning to a modern audience."
"Cary Grant: A Brilliant Disguise" by Scott Eyman (Simon & Schuster)
https://www.simonandschuster.co.uk/books/Cary-Grant/Scott-Eyman/9781501192111
Available on AMAZON
and all good book retailers.
Learn more about the life of Cary Grant – at https://twitter.com/carycomeshome and http://facebook.com/carycomeshome
Review Article by : JAY JAY EPEGA